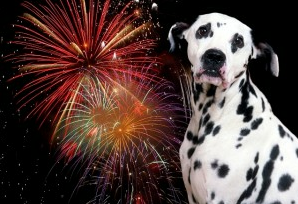 Ahh, July in New England.  Don't you just love the relief and the excitement of a good thunderstorm?  Or the grand finale of that quintessentially American spectacle of the 4th of July fireworks?  Not really?  Then you're probably the caretaker of an animal prone to anxiety.  I remember a sweet Aussie named Roo who used to bolt if she wasn't leashed at the moment a car backfired or a siren went off.  That was really stressful not only for her, but for her mom, who had sometimes had to literally put on her jogging shoes and run all over Portland to find her, terrified that Roo would dash in front of a car.
Over the 12 years I've been trying to help customers help their animals stay calm, I've seen a few products consistently inspire positive feedback.   The Thundershirt has been the number one most-favored solution; of the hundred or so we may have sold between the two stores, we have only had one return.  Briefly it works by providing pressure to the nervous system, and stimulating calming Tellington Touch points.  We highly recommend it.  Read more about how it works here.
Rescue Remedy Pet is still the go-to for all forms of trauma and anxiety in pets.  It's the distilled essence of flowers, in a specific combination that alleviates negative emotions.  It's a wild system, the body of Nelson Bach flower essences, but it works.  Give it (by mouth, on a treat, in water, or, in the case of very very sensitive ones, rub into their ears) about 20 minutes prior to the anxiety-provoking event, and continue to re-dose every 20 minutes or so.
Roo, the Aussie I mentioned above, was a different dog after her mom starting using the Comfort Zone diffuser.  It puts out an odorless (to humans) synthetic version of the pheromone secreted in the whelping box, signifying a safe environment.  The Comfort Zone for cats uses Feliway, which mimics the pheromone cats secrete from their cheek glands that marks territory as safe and happy.
I have had mixed results with homeopathy (some dramatically positive, some meh), so we only carry the remedies that get consistently clear feedback.  Try Homeopet's Anxiety (best for general anxiety) or Travel Anxiety (addresses motion sickness too).  We've had great responses from these.
We've also got calming treats by Pet Naturals and Cranimals; two brands I think really highly of.  Pet Naturals Calming Treats (for dogs and for cats )use colustrum, and Zen Dog by Cranimals uses organic pumpkin extract, a source of tryptophan.
We're always open to your suggestions as well.  Have a product to recommend?  Let us know!