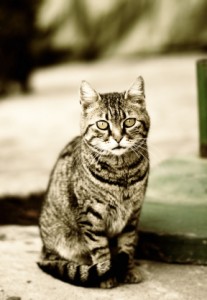 Do you want to do something to help homeless cats?   We've got an easy way to help.
The Animal Rescue League of Boston works with the Boston Homeless Cats Group (BHCG) to manage the population of feral cats through "Trap, Neuter Spay and Release" programs. These programs reduce the feral cat population, protect cats and humans from diseases like rabies, and provide a humane and effective alternative to other population management methods.
To manage these programs the League needs donations.  So we're collecting cans and bags of unopened cat food to drop off on our next delivery day (Thursday, March 15).  See, we told you it would be easy!
Any unopened food is welcome, whether its unused food from your home, purchased food, or even gift cards to local supermarkets and pet stores. The food is used to support feral cat monitoring programs and to trap feral cats for veterinary attention.
You can donate food right at the store, or if it's more convenient for you to bring it directly to the League, then you'll just need to bring your donation to the shelter (address below) by Monday, March 12, 2012, from 8.30am to 6.30pm:
Animal Rescue League of Boston
10 Chandler Street, Boston, MA 02116