We're an impassioned group of animal lovers.  We take the business of choosing & providing supplies to our customers very very seriously.  So why do we carry so much dog apparel each winter?  Doesn't that make us less serious?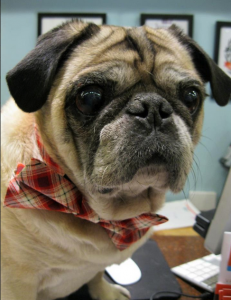 Actually, not at all!  First of all, some apparel is unquestionably functional, sometimes necessary.  It's a fact that some dogs are miserable without winter protection.  How do we know?  They shiver, a lot.  Or they refuse to go outside.  You can see what the rock salt does to tender paws.  Owners can get frustrated when accidents happen inside the house, and dogs pick up on that.  Some dogs, of course, are fine without any barriers to the cold or the salt, and we aren't trying to change that.
But there's another reason we love apparel. It makes people smile, and it makes dogs happy, because they love the attention and the positive energy.  The happiness is contagious.  Try to walk down the street with a dog in a sweater without strangers asking if they can pet your dog.  It's nearly impossible!
Here's Zip looking very dapper in a Christmas plaid bowtie. Good golly, this guy is cute…..!