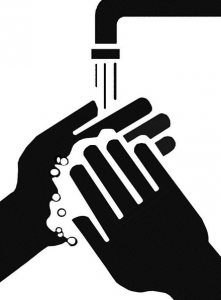 The pet food recall this week thankfully hasn't developed much further.  Sometimes no news is good news.
The big lesson is, wash your hands when handling pet food, chews, treats and of course after poop duty.  The FDA recommends a 20-second scrub with hot water and soap ("sing happy birthday twice to time yourself", is their suggestion, which I think sounds kind of creepy especially under these circumstances).
Several of the brands recalled btw tested negatively for salmonella, but chose to pull their foods as a precautionary measure.  When it comes to companies like Canidae and WellPet, I believe them.  Let's not forget that our human food supply (raw chicken, under-cooked ground beef, especially) is known to be tainted with salmonella and e coli.  If simply washing hands after the dinner prep can prevent sickness, and a huge amount of waste (think of all the food thrown away – and only some of it will have been compromised – every time there's a recall), that's not a high price to pay.
Pet food quality has improved so, so much in the last over 12 years now that I've been selling and researching pet foods.  Yes, it is scary and sad to think that