Every year, Boston A-List has a contest for Best of Boston shops, restaurants and so on.  Winners are chosen by number of votes cast.  Last year, we were super excited when we found out we won the #1 place for Best Pet Boutique!
But, we know that winning last year doesn't mean you should vote for us again this year.  So, we did some deep soul searching and asked ourselves why we deserve your vote this year.   And the result is….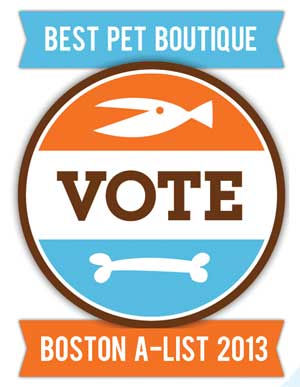 TOP TEN REASONS TO VOTE FOR US
#10
The foods we sell are so healthy, we've eaten them ourselves.  We prefer them with condiments & a cold IPA, but we'd also eat them plain.
#9
We obsess over pet foods, and we will stop at nothing to get you what you need, especially for allergic cats & dogs.  Where else can you get elk, venison, bison, rabbit, ostrich & kangaroo?
#8
We donate thousands of dollars (almost $5,000 in the last 6 months!) to organizations you care about, like ARL of Greater Portland, ARL of Boston, Lilly's Fund, The One Fund, Buddy Up, The Common Canine, & MSPCA.
#7
We are pet food geeks.
And, we also have startingly good taste.
We love good design & enduring style.  And, OK, maybe just a little bling.
#6
We're really interested when you chat with us about your pets' BMs.  (Honestly, we are!)
#5
We've been providing healthy cat & dog foods, gear and advice since 2000, which is almost a century in dog years.
#4
We take a firm stand in regard to bribery.  You'll get a very generous 'thank you' after you vote.
#3
We deliver to your door for free!  In Boston only currently (let us know Portland if you want delivery too…)
(It's true, every Thursday!)
#2
Your dog won't let you walk within 3 blocks without pulling toward our front door.
And the #1 Reason:
We know that pets aren't 'LIKE part of the family'.
Animals ARE OUR FAMILY.