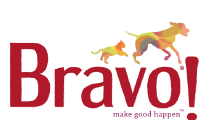 Bravo issued a voluntary recall today for select lots of their Frozen Raw Diets due to potential contamination with Listeria monocytogenes, a strain of bacteria that can cause very serious illness in young children, elderly and others with weakened immune systems.  It is however rarely harmful to animals.  For full details, including batch dates and Consumer Return Form, please read the full recall here.
We have checked our inventory, and have none of the recalled batches in either store.  Our distributor has none in their warehouses either. 
If you have any of the recalled product, throw it away rather than returning it.  Fill out a claim form, and bring it to the store where you purchased the product for a store credit or full refund (your choice).
Always wash your hands when handling raw meats, whether you're preparing food for you or your pets.