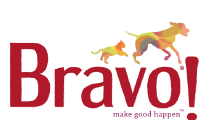 Bravo! Pet Foods has recalled the following select chicken and turkey products for possible presence of salmonella:
Bravo! Raw Chicken Blend 2lb, Best By Date 11/13/16
UPC 829546211028
Out of an abundance of caution, Bravo! is also voluntarily recalling products that did not test positive for salmonella, but that were manufactured the same day:
Bravo Blend Chicken Blend diet for dogs & cats – 5 lb. chubs only
Bravo Blend Turkey diet for dogs & cats – 8 oz. patties only
Bravo Balance Turkey diet for dogs – 4 oz. patties only
We have none of the recalled product in our freezers.  Any customers with recalled product may return the UPC code to us for a full refund or exchange.  Please remember that it's important to always wash your hands when handling any pet food.