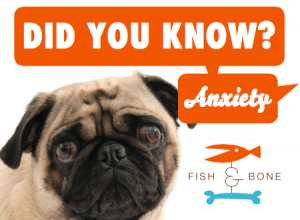 Who doesn't love fireworks?  Wild summer thunderstorms?  A lot of anxious pets, that's who.  Anxiety in pets is a complex problem that usually requires some research, close observation of your pets, trial & error with possible remedies, and a whole lot of understanding and patience.
Anxiety is a broad term that's applied to any fearful, nervous emotional state.  But to really address anxiety you have to understand what kind it is, and where it comes from, and that can be unclear.  For instance, you might think that your dog hides in the bathtub during thunderstorms because she is afraid of the loud claps of thunder (which would be understandable), but maybe more likely, according to Tufts Animal Behaviorist Dr. Nicholas Dodman, your dog is afraid of the electrostatic charge, which can be really uncomfortable or even painful in large dogs with heavy coats of fur.  As CJ Puotinen points out in the Whole Dog Journal, areas anxious dogs often retreat to during thunderstorms, like bathtubs and behind toilets, provide excellent electrical grounding, and that does suggest that the electrostatic charge, rather than the noise, is what causes the most fear.  Which isn't to say that she might not also be afraid of the thunder claps or the rain beating on the windows, but they may just be 'secondarily conditioned fears', in other words, things your dog has learned to be afraid of because she associates them with the static electricity.
Ok so it's summer in New England, thunderstorm season, and a particularly patriotic (and pyrotechnic) time of year.  What can you do to help you pets?  We recommend a number of things you can do as a starting point.  Start working with these solutions as far in advance of possible trigger events as you can, as it may take a little trial & error.  And if you don't see an improvement, it's time to dig deeper into reading resources, and consider making an appointment with Dr. Dodman or a highly-recommended behaviorist in your area.
We love the Thundershirt.  Though it has a generous manufacturer guarantee, we literally never get a return on them.  It's a type of 'pressure wrap' that puts soothing pressure on soft tissue and stimulates Tellington Touch points.  We have tried them on dozens of dogs in our stores and typically see immediate calming response.  For a link to a study of its effectiveness with Temple Grandin, click here.
New to us in 2016, Licks' Zen for Dogs and Licks' Zen for Cats has been getting great feedback from our customers.  Licks is unique.  It comes in individual-dose pouches of a tasty liquid infused with calming ingredients that both dogs and cats have been licking up enthusiastically. The high palatability means it isn't stressful to the pet to administer, and the liquid format means that it has an exceptionally high, and quick, absorption rate (98%).  It takes effect in 30-60 minutes, and lasts for hours.  You can re-dose as needed, and even double or triple in times of acute stress.
We also recommend both the Comfort Zone diffuser (or spray) for cats or dogs (two different formulas however).  The diffuser's advantage is the continuous release of its pheromone-based mist that though odorless to humans is detectable to pets and and signals a calm, safe, harmonious environment.  Rescue Remedy, a blend of flower essences developed by Dr. Nelson Bach in the turn of the century, is said to work on an energetic plane, utilizing the distilled energy of plants to soothe.  It's typically given to pets in a glycerine base (the human formula uses alcohol), and administered directly into the mouth, in drinking water, or rubbed into the ears.
Treats are a great format for administering remedies like valerian, tryptophan, colostrum and melatonin.  We've had good success with Happy Traveler and Pet Naturals of Vermont Calming Treats.  Dr. Linda Aronson DVM has done research with Dr. Dodman on straight melatonin for treating thunderstorm phobia, and according to Canine Epilepsy Guardian Angels, she recommends "a dose of 3mg for a 35-100 lb dog. Smaller dogs get 1.5 mg, and larger dogs may get 6mg. The dose is given either at first evidence of thunderstorm – dog becomes agitated, distant rumbling of thunder, etc. or prophylactically before the owner leaves the house when thunderstorms are predicted. Dose may be repeated up to 3 times daily."
Don't forget that lowering your dog's protein helps.  While we love grain-free foods for dogs as well as cats, the high level of protein in most of them can make your pet more reactive.  Come in and see us in our stores for more specific suggestions on moderate- or low-protein foods.
Finally, changes you can make in your pet's environment or routine: exercise, creating a 'safe spot', and company.   Burn off excess energy with extra walks, swims, runs or play sessions before trigger events occur.   Pull the blinds to reduce the visual impact of a storm, put on lights during night time storms, and turn on a fan or other white noise (or TV, radio, or music). During severe storms or fireworks, be sure that someone, ideally you, or a trusted stand-in, is available.  You don't want to reinforce fear response, but you do want to allow your pet to seek you out for security.  Use the guideline 'comfort, don't coddle' and let your dog come to you if she needs to be reassured.