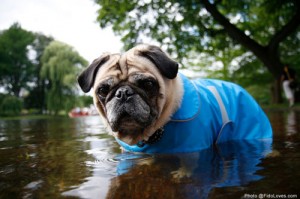 Storms are literally forces of nature, and there's nothing we can do to stop them.  The key to weathering (and even enjoying) storms with pets is thinking ahead, and being organized.  Storm prep for pets isn't time-consuming, difficult or expensive.  And assuming you're in a dry, safe place, it means you can all relax and enjoy Mother Nature's spectacle 'unleash'.
Animals are very sensitive to barometric pressure & will sense the storm's approach.  Don't be surprised to find your pet sitting under the dining room table, or curling up in the closet.  Some animals get simply excited, but some become very anxious, which can manifest in unwanted behavior (which might be hard for you to handle positively if you are under stress too). So anticipate this, and remember that tired animals are good animals….give them as much exercise and stimulation as you can before the storm hits.   We've got plenty of other solutions to help bring down the anxiety level (see below).  Animals pick up on cues from you; try to keep your level of excitement & stress down, and the house quiet.  Try playing mellow music & keeping the lighting low (sounds nice doesn't it?).
Here's our severe storm preparedness list for pets:
– 3-5 day supply of food, water and litter….we recommend having a stash of freeze-dried food on hand all the time, as it's shelf-stable and has a very long shelf life.  Provide some freeze-dried regularly (as full meal, a treat or a topper) so your pet's digestive system is accustomed to it.
– a manual can opener
– a week's supply of medications that your pet may be taking, including instructions (in case you and your pet are separated)
– photos of you and your pet together (in case you are separated)
– copies of your pets' vaccinations, medical records and prescriptions in a clean plastic bag or waterproof container
– reliable collar or harness & leash, by the door for quick access
– current license & rabies tag securely attached to collar
– current ID tag securely attached to collar (we have an engraver in both stores; it only takes a few minutes)
– chews & toys to keep house-bound pets occupied & stimulated (bully sticks, food-dispensing toys, cat nip, bones, wanded or laser toys, puzzle toys)
– remedies or tools to support anxious animals.  We highly recommend the Thundershirt (available now for cats as well as dogs, and we carry both).  It wraps your pet in close-fitting, stretchy fabric & stimulates touch points that are soothing.  We've had one return in the years we've been selling them, in both stores (the manufacturer has a satisfaction guarantee).   We also recommend Rescue Remedy Pet, Licks "Zen" for dogs or cats, and Homeopet Storm Stress and Feline Storm Stress for remedies, and Happy Traveler Chews and capsules as well as Pet Naturals' Calming Chews for Cats or Dogs.  Or try the Comfort Zone diffuser or spray for cats or dogs. We've found that the cat version works extremely well, and the dog Comfort Zone, when your dog responds to it, has dramatic results. All of these anxiety-relief products work on different 'planes':  herbal/nutritional; emotional/energy; primal/pheromone.  Come see us for help in clarifying which are best for your animals.