Ruffwear Powder Hound
Small dogs don't have enough mass to stay warm in New England winters.  Bigger dogs are hardier, but they also generally stay outside for long periods of time, so their exposure to extreme temperature, precipitation of all kinds, and wind is higher.  Plus, the bigger the dog, the more snow, water, mud, salt and sand that can get tracked into the house.  That's one of the less understood beauties of dog coats…less t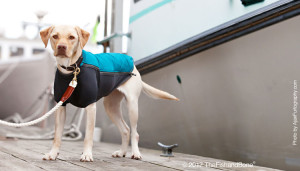 o clean up.
The Ruffwear Powder Hound is one of our hottest dog coats again this season.  It's got broad belly coverage with its soft, stretchy panel of performance fabric on the undercarriage, and 200-gram synthetic insulation on the upper to trap and retain body heat. With warmth, weather resistance and stretch, it's got the bones of a great ski parka. Ruffwear sizes are based on girth (widest part of the rib cage) and run from  XXS to XL, and that will fit almost all breeds and sizes.
Canada Pooch Everest Explorer
Another favorite among winter dog coats is the Canada Pooch Everest Explorer Vest.  Bonus, it looks just like your Canada Goose Parka so you can go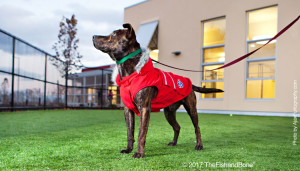 matchy-matchy should you wish.  The Everest has an insulated, fur-lined hood that's detachable; four functionaing cargo pockets (we keep a set of boots in the 'paw' pocket just in case, and poop bag in another); synthetic insulation; weather resistant shell and fuzzy fleece lining. It comes in sizes 8 – 28, including plus sizes (14+ and 20+), which  is fantastic for bulldogs, boxers and pitties, or any chesty dog.  We've got it in Reflective Red or Black.
And that's just the beginning!  Check out our stores or online shop for our entire selection of coats, booties, and sweaters.  And check back for more posts on what's really  hot this season.