The Bare Necessities of Paw Protection
Even the toughest dogs are prone to frost bite, burns from hot pavement, the sting of rock salt, or cuts from sharp rocks or broken shells.  The good news is that paw protection is simple if you plan ahead.
1. Just the Wax, M'am
Paw waxes and balms like Musher's Secret, Pawz Max Wax or Natural Dog Company Pawtection seal pads with a dense, breathable film that protects from exposure to snow, salt, ice, as well as hot sand and pavement. It's year-round protection that prevents dryness and promotes healing. Dry pads are more sensitive to heat and cold, and to the sting of salt, and they are more susceptible to cracking…an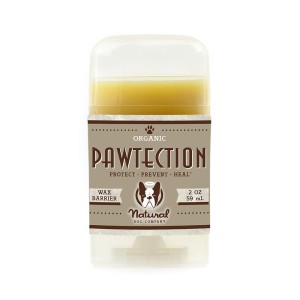 d you want to whatever you can to avoid cracked pads because like any open cut, they are painful and prone to infection. So, wax on.  Smooth generously on all pads and between toes every couple of days…or more frequently if you wipe paws on re-entry.  Another big bonus for dogs with furry paws…wax and balm will stop 'snowballs' from forming between toes. For dogs with 'feathers' or curly or long fur on their legs, go ahead and rub wax or balm in right up the 'elbow' to prevent the abominable snowman effect.  Best use: year-round, any terrain, any dog…especially dogs who don't like their paws being messed with.

2. Wear Your Rubbers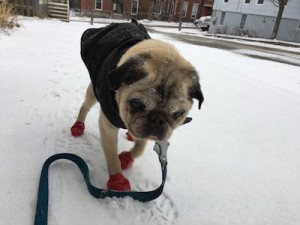 Pawz Natural Rubber Dog Boots are reuseable & disposable paw protection that come in a set of 12 for about $15.  Depending on the amount of use and length of nails, you can get multiple seasons out of them. For a little over $1 a boot, they are an extreme value if only as a backup for very cold, icy days when you want a little more barrier than the film a wax or balm provides. Not to mention they're great for covering gauze when you do have a wounded paw (for extended wear inside in the case of wound protection, poke holes in rubber for breathability, and cut off the elastic ring at the top). Sizes Tiny to XL cover almost any size paw.  Bonus: other than waxes and balms, rubber booties are typically the easiest to put on, and dogs forget about them almost immediately. Best use: winter salt protection, wound protection and mud season for any size dog…and especially great for dogs who don't acclimate easily to a heavier boot.
3. Give 'Em the Boot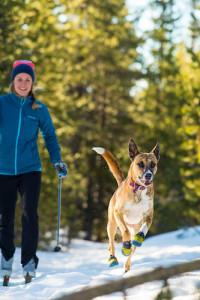 Just like with footwear for humans, the more solidly constructed, the more buffering any boot will provide from the cold and tough terrain, and the longer it will last. If you are out with your dog for extended periods of time in very cold or very hot weather, or on any kind of rugged terrain (rock-salted sidewalks, shoreline or rocky trails for instance) consider investing in a little more advanced paw protection, i.e., a permanent boot.  By that we mean a lightweight shoe made of a breathable, durable material that wraps completely around the paw, providing both a long-lasting barrier, and traction underfoot. Ruffwear Grip Trex, Ruffwear Polar Trex and Ruffwear Summit Trex are great examples of booties that are breathable, lightweight, easy to flex and designed for proper fit. Typically they are sold in sets of 4 for about $60-100. Not sure you want to go that route just yet?  Try an 'entry level' bootie like the Ultra Paws Snow & Go (just cordura, no additional traction layer or insulation) or Ultra Paws Durable Boot (cordura plus traction sole and foam grips pads that make it hard for the boot to slip off) . For very small dogs in dry snow, the Ultra Paws Traction Boot may be a good choice too. Best use:  exposure to rock salt on city sidewalks, extended outdoor activities, dogs of all sizes. Note: Ultra Paws Traction Boots are made of fleece with a grippy sole, so they will become saturated in wet snow or rain. The other booties above let water either run through (Ruffwear Grip Trex) or roll off (all others mentioned).
4. Sock it to me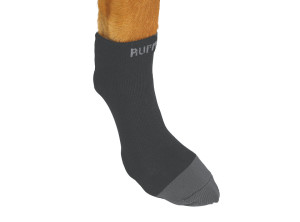 A sock or liner makes putting a furry, wiggly paw (especially with long toe nails) into a narrow bootie much, MUCH easier. Plus, a sock or liner can help take up excess space for a better fit. We like Ruffwear Bark'n Boot Liners for their wicking and quick-drying properties, but if you're going with Ultra Paws boots we recommend their Ultra Sock for best sock/bootie fit. For very light outdoor protection there's RC Pets Sport Pawks (elasticized cotton dipped in waterproof latex up to the 'ankle'). Best use: improving fit and warmth, or easier boot entry, for any size dog, or very light-duty protection on their own in dry outdoor conditions (winter only); indoor traction or wound protection year-round.
5. Walk Like an Indian
Some dogs acclimate quickly to booties, and some don't.  Try googling 'dog wearing booties' and you'll see what we mean. Especially for paw-sensitive dogs, we're very excited about Dog Mocs, new this winter.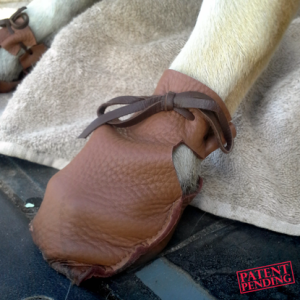 They are exactly what you would imagine:  soft deerskin leather stitched into a kind of envelope with laces at the 'ankle' that hold the moccasin securely onto the paw. The Mocs were tested on military dogs, and after 3 weeks of vigorous training exercises, none had fallen off or worn through.  Like with rubber booties, dogs can feel contours in the ground through them, which means they'll acclimate quickly. Unlike rubber, they are breathable.  Cost: about $32 for 2 ($64 for all four paws…sold in two's for best fit).  Best Use: Year-round, any size dog, any weather, any terrain.