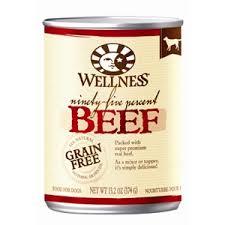 Wellpet, maker of Wellness, has issued a limited recall due to possible elevated levels of beef thyroid hormone.  The recall is limited to one canned formula, Wellness 95% Beef Canned Dog Food.  Any pet parents with this product in their pantry should check on the bottom of the can for the following 'best by' dates.  If any cans with these dates are found, return them to your place of purchase for a full refund:
Recalled Best-By Dates: 02 FEB 19, 29 AUG 19 and 30 AUG 19 
This is the second recall for Wellness in barely over a month.