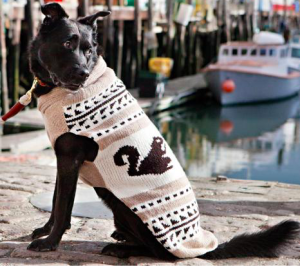 Wool dog sweaters are perfect for days when it's not quite hot enough for full-on winter gear. In dog sweaters, the paws-down customer favorite is the Chilly Dog Cowichan Squirrel Sweater.  It's beautifully designed in rich shades of cream, tan and chocolate wool, and the squirrels are of course pretty irresistible.
Here on the coast of Maine & Massachusetts, nautical everything is always in fashion. Chilly Dog nailed the look with their Sailor Dog Sweater.   It's maritime classic already….a crisp white anchor and white stripes on deep navy.
Looking for a pop of color? Check out the Teal Alpaca Sweater.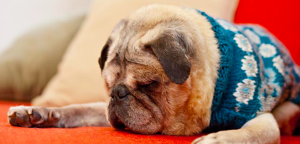 That's what Zip's wearing this year…the blue brings out the white in his fawn pug fur…plus, huge bonus, the alpaca makes it super-soft. The weave is stretchy, which means it fits over his head easily…and this guy does have a generous noggin.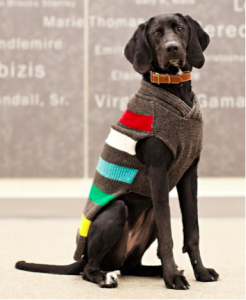 For a bold but classic look, the Chilly Dog Charcoal Stripes dog sweater, with wide stripes of red, aqua, green and yellow against deep grey is just gorgeous.  And no one wears dog sweaters like Daisy Belle, the stunning black hound mix shown on the right.  She's recently been adopted from The Animal Refuge League of Greater Portland!
Nordic style dog sweaters are perennial classics in New England.  The Gray and Pink Alpine has a pop of hot pink, and it's just girlie enough.  But if that's not your style check out the 'boy' alternative in Navy and Green, or the Red Fair Isle.  For something a little more rugged-looking, there's the Rugby Sweater, a cable knit (which means extra stretch) in alternating red and navy stripes with a shawl neck.
With a generous size run from XXS to XXXL, which translates to as small as a Yorkie to as large as a Great Dane, there really is a Chilly Dog sweater for every size dog.