Dog Backpack Carrier in Action
My pug Zip is, as many of you know, over 17 years old now.  He's a pretty independent guy, a cowboy pretty much, but we both would prefer to do just about everything together.  At his age, his range for walks is really limited.  I've got a couple of great tote bag dog carriers that I love, but the weight on one shoulder is too much for a long walk.  So that means that if I need to really stretch my legs, he has to stay home.  Until, that is, I tried out the K9 Sport Sack Air Dog Backpack Carrier.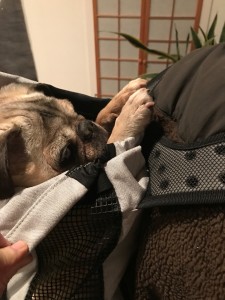 It's the most solid, secure, comfortable backpack carrier I've tested. The straps have reinforced stitching and thick padding.  There's plenty of mesh for ventilation so he doesn't overheat.  There are two side pouches for carrying poo bags and treats or water.  It has adjustable neck, side and shoulder straps so you can create a snug fit.  And of course it's washable (just let it hang dry).  And if you find your pup is on the shorter end of the sizing chart, you can add a Booster Block in the bottom of the Sport Sack to add 3 more inches of height for better fit & visibility.  We've got it in 5 sizes and 4 colors (Ruby Red, Jet Black, Summer Mint and Light Grey).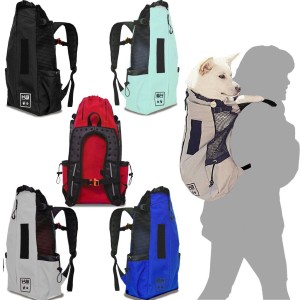 I tried it Christmas shopping in December and found not only could I bring him into every shop I visited, but with both hands free I could easily manage him and my errands.  And, big bonus, I was able to walk the mile or so each way from our house on Munjoy Hill to downtown Portland. He was completely comfortable, and I had no shoulder or elbow strain from shifting the weight from one arm to other. Four paws up!  Highly recommend!