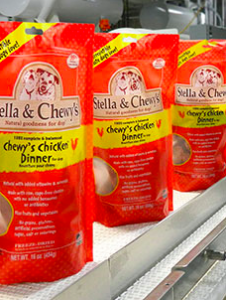 Stella & Chewy's has issued a recall of a batch of Freeze-dried Chicken Dinner Patties in the 15 oz size that was found by the Maryland Dept. of Agriculture to contain Listeria monocytogenes, a bacteria that can be dangerous especially to humans.  In addition Stella & Chewy's proactively recalled other batches of both Freeze-dried and Frozen Dinners and Treats, for cats and dogs, that may have come in contact with the contaminated batch discovered by the MD Dept. of Agriculture.
Stella & Chewy's customers should check their freezers and pantries for product that matches the UPC and 'Best By' dates listed on the recall.  More details are available on Stella & Chewy's website.
Any recalled product purchased at our stores will be refunded 100%.  Watch for updates on how to handle returns and refunds.